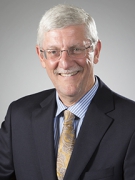 Awards
Lieber Memorial Associate Instructor Award (1985)
About Lawrence Scharmann
Lawrence Scharmann earned his Ph.D. in Science Education from Indiana University in 1985.
Scharmann now serves as the Anne and John Daves Professor of Education, Assistant Dean & the Director of the School of Teacher Education at The Florida State University. The focus of his research is in the nature of science and issues, with specific emphasis on the instructional role of science theories and approaches to teaching evolution. The National Association for Research in Science Teaching (NARST) in 2010 and the Association of Science Teacher Education (ASTE) in 1994, independently acknowledged his contributions concerning evolution education by presenting him best paper awards.
Dr. Scharmann has also received an Association of Teacher Educators award for Distinguished Research in Teacher Education from the University of Kansas in 1994, a Presidential Award for Outstanding Undergraduate Teaching in 1995, College of Education Award for Excellence in Teaching in 1995, a second ASTE Award for Implications of Research for Educational Practice in 1996, and a College of Education Award for Excellence in Advising in 2002. Finally, the Teachers College Alumni Association, at the University of Nebraska-Lincoln, awarded him a 2000 Award of Excellence for outstanding contributions to the profession of education.