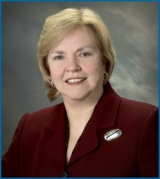 Awards
Lieber Memorial Associate Instructor Award (1983)
About Leah R. Rampy
Leah Rae Rampy earned her Ph.D. in Education from Indiana University in 1983.
Rampy served as an Assistant Professor of Education at the University of Houston, and then became the Executive Director for the Shalem Institute for Spiritual Formation taking the role permanently after serving as the interim Executive Director in July 2009. Rampy now serves as the Founding President of Illumine, LLC., a leadership consulting firm in McLean, Virginia. She has also served in Executive Leadership positions at American Express, Duracell, and Fannie Mae.
Rampy also serves as a member of the National Board of Visitors at Indiana University.