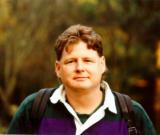 Awards
Lieber Memorial Associate Instructor Award (1990)
About Matthew J. Eynon
Matthew J. Eynon earned his M.A. in East Asian Studies in 1983, his M.A. in Religious Studies in 1989, and his Ph.D. in Japanese
Language and Literature in 1992 from Indiana University.
Eynon has served as a Professor of Japanese Studies at Tenri University in Japan since 2006.
Eynon is the co-author of a Japanese language textbook called Learning Language Through Lyrics published in 2004, of Learning Thai: A Unique and Practical Approach published in 2003, of Ancient Tales of Tenri published in 2005, and Learning Language Through Lyrics: Nepali Film Songs from 2005.