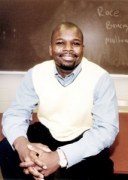 Awards
Lieber Memorial Associate Instructor Award (2000)
About Matthew Kwane Oware
Matthew Kwane Oware's "Race and Ethnic Relations" class has a "must take" class in IU Bloomington's Department of Sociology. "Student praise about this course and Matthew's teaching is unprecedented," said Brian Powell, professor of sociology and director of the department's graduate studies. "I have never seen a graduate student instructor receive this level or this type of praise."
Oware has also taught "Introduction to Sociology" and last year, won the departmental Edwin H. Sutherland Teaching Award and the Teaching Excellence Recognition Award from the College of Arts and Sciences.
Oware's teaching is only one part of his contribution to the university and to the community. As a member of the Preparing Future Faculty program, he has coordinated and participated in a wide range of teaching workshops. He has served on panels on diversity issues and as a mentor for the Minority Achievers Program. He was also instrumental in the submission of a successful Upward Bound grant application, which resulted in IU receiving $1 million over five years to implement the country's first distance learning-based Upward Bound program.
Oware also is an instructor for the Heritage Project, which teaches youth in the Bloomington area about African and African-American ancestry.