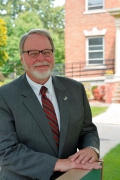 Awards
Lieber Memorial Associate Instructor Award (1983)
About Matthew W. Seeger
Matthew W. Seeger earned his Ph.D from Indiana University in 1982.
Seeger is the Dean of the College of Fine, Performing & Communication Arts and a Professor of Communication at Wayne State University in Michigan.
Seeger's research interests concern crisis & risk communication, crisis response & agency coordination, health communication, the role of media in crisis, crisis & communication ethics, and the failure of complex systems & post-crisis renewal.
Seeger has worked closely with the United States Centers for Disease Control and Prevention on communication and anthrax attack and on pandemic influenza preparedness. He is an affiliate of the National Center for Food Protection and Defense where he studies issues of food safety and recalls. He is Co-PI on the National Science Foundation Grant Multi-Agency Jurisdictional Organized Response, a project involving crisis coordination in complex social-technical systems. Seeger also works with the National Center for Border Security and Immigration.
His work on crisis, risk and communication has appeared in over 100 journal articles, book chapters and conference proceedings. Seeger is the author or co-author of six books on crisis and risk communication.