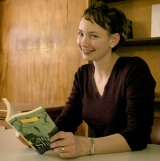 Awards
Lieber Memorial Associate Instructor Award (2004)
About Melissa J. Jones
Melissa Jones believes in giving students "authority over their own educations," and her students love it. Dedicated to challenging her students to grow by taking risks, Jones has won legions of fans for her inspirational approach to teaching subjects ranging from elementary composition to Shakespeare.
In a course on tricksters in literature, Jones encouraged a lecture hall of 150 students to get in the mood by having them don clown wigs and toss candy at her while she lectured on Shakespeare's Twelfth Night and the carnivalesque. Jones describes the event as "underscoring both the lecture's content and intellectual inquiry as active engagement."
Her creative approach to teaching—and a style that she describes as relying "on a certain degree of 'antagonism' to spark students' intellectual and political growth"—earn her rave reviews from her mentors, peers and students. A teaching assistant at IU Bloomington since 1998, Jones has led hundreds of students through the rocky waters of elementary composition; lectured on Othello; and taught in the Groups Special Services Program, which prepares traditionally under-represented students for college. She is a recipient of the department's Carnegie Initiative on the Doctorate Fellowship and has served as graduate student representative to the Bloomington Faculty Council.
Jones' students love her creative approach. A student in one of Jones' discussion sections offered high praise in a course evaluation: "I loved this course because it got me to really dig inside the stories, and the instructor really got me to write the best papers I could have written. I think she is the best teacher I have ever had. She truly cares about her students and helps to bring out the best in them."
Jones says of her approach to scholarship: "When students begin to pay attention to themselves as writers, readers and cultural analysts, they also begin to see themselves as authors of themselves. My responsibility in creating assignments and class engagements is to help students realize their authority over their own educations."