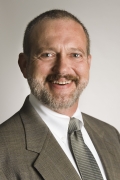 Awards
Lieber Memorial Associate Instructor Award (1978)
About Mikel G. Tiller
Mikel G. Tiller received both his B.A. in Philosophy and B.S. in Business Administration at Carson-Newman College in 1976. He then completed an M.B.A. in Accounting in 1978 and a D.B.A. in Accounting in 1980 at Indiana University.
Tiller is the Chairman of the Graduate Accounting Programs, and an Associate Professor of Accounting & Information Systems in the Kelley School of Business at Indiana University. He specializes, teaches courses in, and continues his research in the areas of Financial Accounting, Managerial and Behavioral Accounting, Eastern Europe and Education Research.
Professor Tiller is also a leader in the national movement to reform accounting education to include a broader subject matter and more required hours of study.