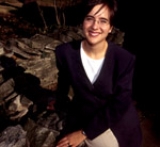 Awards
Lieber Memorial Associate Instructor Award (2002)
About Nina Bosch Namaste
Nina Bosch Namaste was born and raised in Chicago, Illinois, and grew up speaking Catalan and English at home. She started learning Spanish when she was in seventh grade.
Namaste's undergraduate studies were completed at St. Olaf College in Minnesota, where she majored in Spanish and Education. After completing her undergraduate degree, she taught Spanish, Bilingual Math, and Bilingual Biology at Fenton High School. She then earned her M.A., and then in 2003, her Ph.D. in Spanish from Indiana University.
Namaste spent 2004 teaching Spanish literature and theatre at the University of Iowa for a year as a Visiting Instructor, and then joined the faculty at Grand Valley State University in the fall of 2004. Her main areas of research are identity, culinary images, and contemporary Hispanic theatre.
Namaste's awards include a fellowship in the Department of Spanish and Portuguese since 1996, completion of her doctoral exams with distinction, the 2001 Spanish and Portuguese Associate Instructor Award for Outstanding Teaching, and the Teaching Excellence Recognition Award for both 1998 and 1999.