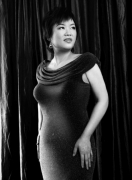 Awards
Grammy Award (2006)

Best Instrumental Soloist Performance
Performance: Messiaen: Oiseaux Exotiques (Exotic Birds)
About Angelin Chang
Internationally acclaimed for her musical poetry and technical brilliance, Angelin Chang is America's first female classical pianist to win a Grammy for Best Instrumental Soloist (with Orchestra) for "Messiaen: Oiseaux Exotiques (Exotic Birds)." She is also recognized as the first pianist of Asian descent awarded a Grammy. She performs worldwide at such venues as the Kennedy Center (Washington, D.C.), Severance Hall (Cleveland), Kimmel Center (Philadelphia), Lincoln Center (New York), St. Martin-in-the-Fields (London), Zelazowa Wola (Warsaw), Shanghai Grand Theatre (China), Sala Luis Ángel Arango (Bogotá), Schnittke Philharmonic Hall (Russia), and the South African Broadcasting Corporation.
As the first artist-in-residence at the Kennedy Center in Washington, D.C., she participated in developing and launching the Arts for Everyone initiative. She has performed for the U.S. Department of State, the United Nations Women's Organization, and for the United Nations before the secretary-general. An active chamber musician, she concertized and recorded for decades as the exclusive pianist of legendary violist Joseph de Pasquale and The de Pasquale String Quartet, and performs regularly with members of the Philadelphia Orchestra and Cleveland Orchestra.
A First Prize (Premier Prix) graduate of the Paris Conservatoire, Chang is the first American awarded first prizes in both piano and chamber music during the same year from the Conservatoire National Supérieur de Musique de Paris, France. She earned a Doctor of Musical Arts from Peabody Institute of the Johns Hopkins University, a Premier Prix - Piano and Premier Prix - Musique de Chambre from the Paris Conservatoire, a Master of Music and Distinguished Performer Certificate from IU, a Bachelor of Arts in French and Bachelor of Music from Ball State University, and highest honors upon graduation from the Interlochen Arts Academy. Her Juris Doctor is from the Cleveland-Marshall College of Law. Her piano teachers have included Michel Béroff, Marie-Françoise Bucquet, Yoheved Kaplinsky, Yvonne Loriod-Messiaen, Robert McDonald, Menahem Pressler, Pierre Réach, Pia Sebastiani, György Sebök, Louis-Claude Thirion, and Dorothy Taubman.
Chang is professor of music (piano), coordinator of keyboard studies and coordinator of chamber music in the School of Music of the College of Liberal Arts and Social Sciences at Cleveland State University, and professor of law at the Cleveland-Marshall College of Law.