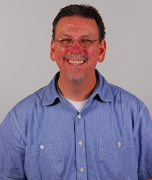 Awards
Lieber Memorial Associate Instructor Award (1995)
About Richard A. Maxson
Richard A. Maxson earned his M.A. from California State University-Fresno, and his Ph.D. from Indiana University.
Maxson joined the Communication Department of Drury University in 2000. Maxson teaches Persuasion Theory, Rhetorical Criticism, Foundations of Communication, and Communication Ethics. He is presently faculty advisor to the Drury chapter of Lambda Pi Eta, Honor Society of the National Communication Association. He also directs the University Speech Communication Center.
Maxson's research interests include apocalyptic discourse, memorials and the construction of public memory, and communication education. He is a member of the National Communication Association and the Religious Speech Communication Association. Maxson spends his summers teaching at a youth camp in Indiana and teaching communication courses in Klaipeda, Lituania at Lithuania Christian College.
Maxson has been the recipient of the Lieber Memorial Teaching Award from Indiana University Bloomington, the Speech Tradition Award for Excellence in Teaching Public Speaking, and is noted in Who's Who Among America's Teachers.