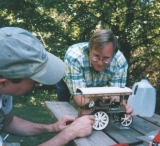 Awards
Lieber Memorial Associate Instructor Award (1981)
About Robert Rhode
Dr. Robert T. Rhode earned his B.A., M.A., and Ph.D. in English from Indiana University.
Rhode serves as a Professor of English at Northern Kentucky University. His research interests focus on William Dean Howells, Edgar Allan Poe, Walt Whitman, the cultures of small towns & rural areas, the literature & history of the steam power era, and traditional grammar.
Rhode is the author of Kitchenary: The Persons, Places, and Things in Our Kitchens, and the award-nominated book The Harvest Story: Recollections of Old-Time Threshermen, and he has co-authored thirteen books including Great Photographs of Farm Steam Engines from the Collection of John F. Spalding with John F. Spalding; Emma's Gift from Africa with Timothy W. Lyons; Maggie Quick, Flyways: A Green Fable for Our Times, Desktop Grammarian for University Students, Desktop Grammarian for Homeschoolers, Desktop Grammarian for Editors, Desktop Grammarian Exercise Workbook, and Essential Grammar Tips with Eleanor Y. Stewart; The Steam Tractor Encyclopedia: Glory Days of the Invention That Changed Farming Forever with John F. Spalding; Speak No Evil! with Patricia C. Borne; Your Personal Writing Workout with Nancy D. Kersell; and the award-winning Classic American Steamrollers, 1871-1935, Photo Archive with Judge Raymond L. Drake. He is also the author of several articles, reviews, and poetry collections.