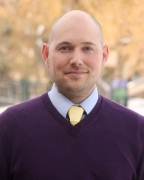 Awards
Lieber Memorial Associate Instructor Award (2010)
About Ryan D. Hallows
The student evaluations of Ryan David Hallows' first year Spanish class often share a common element: students who previously struggled with the language actually enjoy it when Hallows is their instructor.
"I used to hate Spanish, but I really enjoyed the class and actually liked coming to it."
"If all of my Spanish classes in high school had been taught by Ryan, I would be fluent by now."
"I learned more in this class than three years of high school combined."
Hallows has been honored with the 2008-2009 Outstanding Associate Instructor Award in the Department of Spanish and Portuguese and was a McNair Graduate Fellow from 2004-2009. His passion for Spanish is only matched by a rare gift for imparting his enthusiasm to his students.
He says he helps his students build confidence in their foreign language abilities by getting to know each student personally, incorporating Spanish language and culture into discussions about students' interests and hobbies.
"My teaching philosophy couples cultural themes with language learning in an application-based environment where students can use their blossoming language skills without feeling embarrassed or uncomfortable doing so," Hallows says. Once he has established common interests with students, Hallows brings in music from Latin America and Spain, Internet clips of Hispanic cultural events, and newspaper headlines and trivia, using them as tools to help students focus and become comfortable with the foreign language environment.
Hallows recently introduced his students to Spanish outside the classroom through service-learning projects. The group prepared educational activities based on Hispanic culture for a group of four-to-eight-year-olds in the Bloomington community who have lived apart from their culture. "This class became a learning experience for my undergraduate students, many of whom had never worked with children before, and even fewer had any interaction with the Hispanic community in their lives," he says.
"Mr. Hallows is a naturally gifted teacher who cares about students and connects with them," writes Manuel Diaz-Campos, associate professor of Hispanic linguistics; Melissa Dinervo, associate professor of Spanish literature; and Silviana Falconi, the department's director of language instruction, in a letter of support.
Both inside and outside of the classroom, teaching comes naturally to Hallows. "I can think of no one more apt for the art of teaching than Ryan Hallows, with his hands-on and personal approach dedicated to effective relationships with students," says Yale Professor Kenneth David Jackson, who led a Yale summer session in Brazil titled Introduction to Literature and Culture in Brazil, in which Hallows participated. Jackson recalls walking with his son Kenneth, then 11, that summer and seeing Hallows fishing in a local stream. "When we approached, seeing Kenneth's interest, Ryan asked if he would like to try his hand at fishing -- thus the 'lesson' began, with pole, line, casting, and patience, which lasted until Kenneth had caught his first fish. In teaching language, Ryan is also inviting, competent, incisive, patient -- and opens unexpected talents and interests."
Hallows looks forward, after completing his doctoral degree, to continuing his career as a professor of Spanish language and literature. "I will strive to better myself as an instructor by reaching out beyond the walls of the university to incorporate my community and the world into my classroom instruction," he says. "As a second language learner myself, I feel privileged to be able to share my passion for Spanish with others and inspire them to look beyond their zone of familiarity, to learn and experience new cultures and places, and above all, communicate and listen to the dreams and heartaches of a large percentage of the human race."