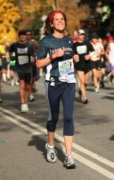 Awards
Lieber Memorial Associate Instructor Award (1996)
About Sharon A. Abbott
Sharon A. Abbott received her B.A. in Sociology from Ithaca College in 1990. She then earned her M.A. in 1993 and her Ph.D. in 1999 in Sociology from Indiana University. Also from IU, Abbott has a certificate in Women's Studies from 1994.
Abbott has served as a Research & Teaching Assistant in the Department of Sociology, Instructor and Course Planner for the Department of Extended Studies, and an Instructor in the Department of Sociology and College of Arts and Sciences at Indiana University. She has also served as a Visiting Assistant Professor in Department of Sociology at Wittenberg University,
and an Assistant Professor in the Department of Sociology and Anthropology at Fairfield University. She now serves as a Program Associate in the Population Council of the Division of HIV/AIDS in New York City.
Abbott has been the recipient of the Social Science Research Council and Ford Foundation Sexuality Research Fellowship in 1996, the Edwin Sutherland Award for Teaching Excellence from Indiana University's Department of Sociology in 1996, the Lieber Memorial Associate Instructor Award for Outstanding Teaching at Indiana University in 1996, the Outstanding Teacher Scholar Award from Indiana University's College of Arts and Sciences in 1997, the Faculty Research Fund Board Summer Research Grant from Wittenberg University in 1998, and the Edith B. and Frank C. Matthies Award for Teaching Innovations at Wittenberg University in 1999.