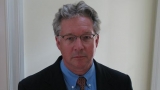 Awards
Lieber Memorial Associate Instructor Award (1987)
About Steven P. Peterson
Steven P. Peterson received his B.A. in Political Science and his M.A. in Economics from Bowling Green State University. He then earned his Ph.D. in Economics from Indiana University.
Peterson is the Director of Research and the Senior Risk Officer of the Virginia Retirement System, and an Associate Professor in the Department of Economics at the School of Business at Virginia Commonwealth University.
Peterson's research focuses on Econometrics, Monetary Theory and Finance. He is the author of Investment Theory and Risk Management with Applications published in 2010.
Peterson is the recipient of Indiana University's Leiber Memorial Teaching Award, and the Department of Economics Alice French Award.