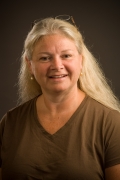 Awards
Lieber Memorial Associate Instructor Award (1988)
About Susan R. McIntyre
Susan R. McIntyre received her B.A. in English from Keene State College in 1977. She then earned her Ed.M. from Keene State College in 1984, and her Ph.D. in Language Education from Indiana University in 1990.
McIntyre is a Professor in the Department of Education Studies and the Department Chair of Curriculum and Instruction at the University of Wisconsin-Eauclaire. She specializes in and continues her research in the areas of content area literacy, health literacy, second language acquisition, professional development, and adult learning.
McIntyre is a partner for Health Literacy Advancement, Chair of the Curriculum & Instruction Department, Chair of the University Academic Policies Committee, Chair of the College of Education and Human Sciences By-Law Task Force, Chair of the College of Business Audit and Review, Director to the Center for Instruction Technology and Innovation, Groupware Coordinator for the College of Professional Studies, Co-Coordinator of Technology in the College of Professional Studies, Member of the Executive Board of the Wisconsin State Reading Association, and a member of the Eau Claire Area Reading Council. McIntyre has also served as a member of the editorial board for the Senior Review in Wisconsin, the National Institute for Family Literacy, to the Wisconsin State Reading Association Journal, and to the Journal of Adolescent Literacy. She has served as editor for Allyn & Bacon, Simon and Schuster, Scott Foresman & Co., Little Brown Company, Wadsworth Publishing Company, and Brown & Benchmark Publishers.
McIntyre has been the recipient of the University of Wisconsin's Outstanding Advising Award in 2005, 2006 & 2007, Technology Award in 1997, and their Chancellor's Excellence in Teaching Award for 1995. From Indiana University she was awarded the Outstanding Staff Award from the Learning Skills Center in 1990, Beechler Outstanding Dissertation Proposal Award in 1989, Dissertation Year Fellowship in 1988, and the Lieber Memorial Outstanding Teaching Award also in 1988.