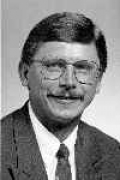 Awards
Lieber Memorial Associate Instructor Award (1975)
About Thomas J. Linnemeier
Dr. Thomas J. Linnemeier is an Indiana native, and graduated with a B.A. in biological sciences from Indiana University in 1973. He then earned his M.D. from Indiana University-Purdue University in Indianapolis in 1977.
From 1984 until he joined Guidant, Linnemeier was a clinical Assistant Professor of medicine at Indiana University School of Medicine and also practiced as an interventional cardiologist with The Care Group. Linnemeier also served as the former Chief of Cardiology at the Indiana Heart Institute, and was Senior Vice President of New Ventures and Chief Medical Officer in the vascular intervention division at Guidant Corporation. He was also a Professor of Cardiology at Stanford University.
Linnemeier held a board certification in internal medicine, cardiology, and interventional cardiology and served on the editorial boards of the Journal of Invasive Cardiology and Catheterization and Cardiovascular Intervention. He also acted as an as an editorial consultant for the Journal of the American College of Cardiology.
Linnemeier died in an automobile accident in Florida, on Monday, May 6, 2002. Linnemeier was 51 years old.
"Throughout his long, distinguished career Tom influenced the field of interventional cardiology, and, in so doing, saved the lives of thousands of patients," Guidant president and CEO, Ronald W Dollens commented in a press statement. "His groundbreaking science and leading innovations will continue to touch lives for many years to come. Beyond his professional accomplishments, Tom was a devoted and dear friend to many in the community."