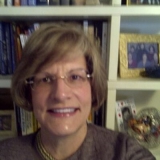 Awards
Lieber Memorial Associate Instructor Award (1981)
About Valerie A. Endress
Valerie Endress received her B.S. and M.A. from Ball State University. She then earned her Ph.D. from Indiana University in 1996.
Endress is a Associate Professor of Communications at Rhode Island College.
Endress is part of Rhode Island College's role in the American Democracy Project, and the driving force behind DebateWatch 2004 & 2008, Open Books-Open Minds project, and the VISTA/AMERICORPS Service Learning program. She is also a well-respected political analyst for the Rhode Island news media.