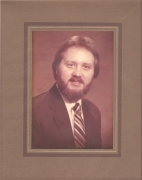 Awards
Lieber Memorial Associate Instructor Award (1968)
About William A. Ruch
William Ruch earned his B.A., M.A. and Ph.D. in Business from Indiana University.
Ruch had a distinguished 32 year teaching career at Arizona State University in Productivity, Quality and Operations Management. In addition to teaching he was widely published; ran the American Productivity Quality Center 's contribution to The White House Conference on Productivity; he was an examiner for the Baldrige National Quality Award, and his consulting services greatly impacted the quality programs at major American corporations and organizations including Hewlett Packard, NASA, Anheuser-Busch and scores of others. He was honored for his achievements by the World Academy of Productivity Science in Stockholm in 1993.
Ruch died on December 11, 2007 of Thyroid Cancer at his home in Tempe, Arizona.