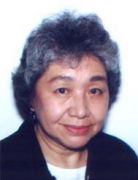 Awards
Lieber Memorial Associate Instructor Award (1978)
About Yoshiko Samuel
Yoshiko Samuel received her B.A. from Aichi Prefectural Women's College in Japan. She arrived in the United States in 1960, and earned a M.A. from Michigan State University. Before returning to graduate school, Samuel taught Japanese at Antioch College in Ohio from 1962 to 1974. It was at Indiana University that she earned another M.A. and her Ph.D. in Philosophy by 1979.
After graduation, Professor Samuel became an adjunct Professor of Japanese Language and Literature at Wesleyan University in Connecticut. She then moved through the ranks to Assistant Professor in 1982, Associate Professor in 1989, and full Professor of Japanese in 1998. Samuel's courses consisted of Japanese literature covering the periods from the Meiji Restoration in 1868 through the Post World War II, as well as Japanese postwar politics, and Japanese women writers. She specialized in the themes of nativism and post-colonialism and focused particularly on Oe¯ Kenzaburo and Yukio Mishima, two important postwar Japanese writers. She also researched minority writers in Japan, such as Koreans, and the Burakumin, a Japanese minority group. Samuel retired from Wesleyan University in 2006.
Among her own publications are Twelve Years, Twelve Animals from 1972, a children's book based on Japanese folk tales, The Life and Works of Oe¯Kenzaburo from 1981, and several scholarly journal articles. Coinciding with her retirement, Samuel donated her entire collection of Japanese books to the Olin Library at Washington University. The 540-piece collection contains books on feminist theory, Japanese literature from all periods, Japanese history and sociology, and literary criticism.