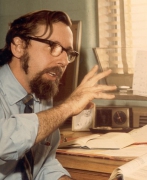 Awards
President's Award for Distinguished Teaching (1991)
About Daniel E. Quilter
Daniel E. Quilter born in Toledo, Ohio on October 17, 1933 to Dr. Daniel E. and Lillian Weber. He lived in Tiffin, Ohio with his fraternal twin, Nancy, and younger brother John Quentin until their father, a chiropractor, was killed in a car accident. Quilter's mother remarried a widower, John P. Balduf of Toledo, Ohio in 1945.
Quilter received a B.A. summa cum laude in Spanish from the University of Toledo in 1955. He did his graduate work at the University of Illinois at Urbana Champaign, earning an M.A. and a Ph.D. also in Spanish, in 1962. Afterward, he married and was appointed to his first college teaching position at Northwestern University. Leaving Northwestern, Quilter was appointed as Director of Language Instruction in the Department of Spanish and Portuguese at Indiana University in 1964 and held it for ten years. He was later appointed as Director of Undergraduate Studies, which he held for sixteen years. Quilter was diagnosed with Parkinson's Disease in 1987, but remained at I.U. as an Associate Professor Emeritus of Spanish until his early retirement in 1995, due to complications from severely impaired vision.
Quilter taught language courses, business courses in Spanish, and classes on applied linguistics, Spanish culture, and civilization. He also created a number of new courses, and was known for his use of multimedia before technology had become advanced. Before his retirement, McGraw Hill published his book on advanced Spanish grammar.
Among his awards, Quilter received I.U.'s President's Distinguished Teaching Award in 1991, the Indiana Foreign Language Professor of the Year Award in 1992, and the Indiana American Association of Teachers of Spanish and Portuguese Faculty Teaching Award in 1992.
Quilter spent a number of years in Spain on sabbatical, and as the Director of I.U.'s Overseas Study Program at the University Complutense in Madrid, a position he held three times from 1966-1967, 1974-1975 and 1980-1981. Quilter served on the board of directors of the IU Credit Union for one three-year term in the 1970's. He was a member of the Unitarian Universalist Church of Bloomington and served on the board of directors for six years and was president in 1995-1996. In 1995, after he retired from Indiana University, he served by teaching Spanish at the Bloomington Adult Community Center and continued with the same class of adult learners until his death.
Daniel E. Quilter died at home in Bloomington on May 29, 2008 due to complications from Parkinson's Disease.