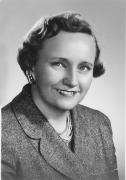 Awards
President's Award for Distinguished Teaching (1978)
About Elizabeth A. Greenleaf
Dr. Elizabeth Adele Greenleaf, professor and coordinator of College Student Personnel Administration at Indiana University, made significant contributions to the development of the Student Affairs profession through her leadership as an educator, administrator, and mentor.
As one of the only three people to serve as the president of both the American College Personnel Association (1967-1968) and the National Association for Women Deans, Administrators, and Counselers (1971-1972), she was a tireless, articulate advocate for the special contributions that professional prepared Student Affairs staff could make to the quality of campus life.
The Elizabeth A. Greenleaf Fellowship was established to acknowledge Dr. Greenleaf's work with women graduate students who have excelled in the classroom, demonstrated practical competence, and have made outstanding contributions to the quality of the learning experience in the HESA program. this award is awarded to a currently enrolled first year female master's student studying Higher Education and Student Affairs.