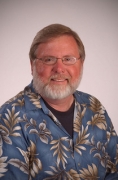 Awards
President's Award for Distinguished Teaching (2001)
About Patrick Ashton
Patrick Ashton didn't intend to teach.
"When I went off to graduate school," he recalled, "I initially looked at my five-year teaching assistantship primarily as a way to pay the bills." But today, with 21 years and more than 130 undergraduate and graduate courses under his belt at IPFW, he is an award-winning educator.
Ashton's teaching philosophy centers on cultural diversity. Working in the campus' Summer Bridge program, Ashton helps students of diverse backgrounds to navigate their way through college. He teaches a sociology course in the program and also is a mentor to four Bridge students. He was the 1999 recipient of the John P. Ulmer Outstanding Service to Minority Students Award. The same year, he received the North Central Sociological Association's Distinguished Contributions to Teaching Award for his outreach efforts to high school sociology teachers in the form of workshops. He is a member of IU's Faculty Colloquium on Excellence in Teaching (FACET) and works with the IPFW Center for the Enhancement of Learning and Teaching (CELT) and the Faculty Leadership Institute.
Michael Lucas, a former student who went on to graduate study at the University of London and the Sorbonne, wrote,""Often there is a special person along the way who offers insight, advice and encouragement. I am fortunate to have found these qualities in Dr. Patrick J. Ashton."