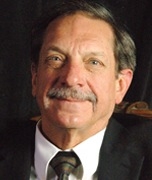 Awards
School of Medicine Glenn W. Irwin, Jr. Distinguished Faculty Award (2013)
President's Award for Distinguished Teaching (1990)
About Roland B. McGrath
Roland B. McGrath, M.D., joined the IU faculty in 1976 after completing his internal medicine residency at the medical school. A dedicated educator, Dr. McGrath served as a mentor to students, residents, fellows, faculty and patients.
During his tenure, he created the urgent visit center at Wishard Hospital, the Department of Medicine Critical Care Service, the IU School of Medicine critical care fellowship, and served as Wishard's first intensive care unit medical director.
A hands-on administrator, Dr. McGrath stepped forward and held numerous medical directorships for divisions at Wishard. However, his legacy is the creation of the IU School of Medicine Department of Emergency Medicine, where he served as chair from 1999-2011.