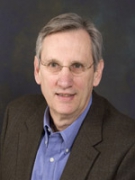 Awards
Bicentennial Medal (2020)
Fulbright Award (1997)

Japan
Sylvia E. Bowman Award (1994)
About James H. Madison
James H. Madison is the Thomas and Kathryn Miller Professor Emeritus of History and former chair of the Department of History, Indiana University, Bloomington. Among his publications are THE INDIANA WAY: A STATE HISTORY (1986); ELI LILLY: A LIFE (1989); A LYNCHING IN THE HEARTLAND: RACE AND MEMORY IN AMERICA (2001); SLINGING DOUGHNUTS FOR THE BOYS: AN AMERICAN WOMAN IN WORLD WAR II (2007); and WORLD WAR II: A HISTORY IN DOCUMENTS (2009).
Professor Madison's teaching has ranged from the freshman introductory history course to courses on Indiana history and on World War II and seminars on automobile culture and on leaders and leadership. He serves also as director of the Liberal Arts and Management Program (LAMP), an honors-level program that offers majors in the College of Arts and Sciences courses in cooperation with the Kelley School of Business and special LAMP seminars.
In 1994, the University awarded Professor Madison the Sylvia E. Bowman Distinguished Teaching Award. He has also taught, as a Fulbright Professor, at Hiroshima University, Japan, and at the University of Kent, Canterbury, England. He is the recipient of the Indiana Historical Society's Hoosier Historian Award and has been a fellow at Harvard University, the Newberry Library, and the Huntington Library. In 2001 the Organization of American Historians named Professor Madison a Distinguished Lecturer.