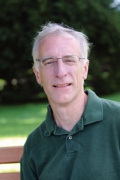 Awards
Bicentennial Medal (2020)
Sylvia E. Bowman Award (2000)
About Scott R. Sernau
Scott R. Sernau earned his Ph.D. from Cornell University in 1991. He is Professor of Sociology and Anthropology at Indiana University South Bend. He has also served as director of Indiana University South Bend's Office of International Programs and as member of the advisory board for the Center for the Study of Global Change. His courses focus on social inequality, international inequalities, social problems, Mexican culture and society, urban society, race and ethnic relations, and sociology of the family.
He has received a number of teaching awards including the Indiana University South Bend Distinguished Teaching Award. He is also the author of several books including: ECONOMICS OF EXCLUSION: UNDERCLASS POVERTY AND LABOR FORCE CHANGES IN MEXICO (1994); CRITICAL CHOICES (1997); BOUND: LIVING IN THE GLOBALIZED WORLD (2000); and GLOBAL PROBLEMS: THE SEARCH FOR EQUITY, PEACE, AND SUSTAINABILITY (3rd edition, 2012).
He is also editor of CONTEMPORARY READINGS IN GLOBALIZATION (2007).
He received the Bicentennial Medal for his distinguished contributions to Indiana University.