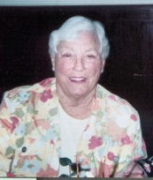 Awards
Olympians (1952)

Swimming and Diving
United States of America
Helsinki, Finland
100M Freestyle
Finalist
About Judy Roberts Thomas
Judith Roberts Thomas passed away on November 22, 2016. She was born in 1934 in Dallas. She graduated from Indiana University in 1956 where she had been a member of Kappa Kappa Gamma Sorority. While at IU, Judy met her husband, Morris (Mo) Thomas, Jr., and they were married in 1956.
Judy was a member of the United States Olympic Swim team, and she competed in the 1952 Olympics in Helsinki, Finland. She also represented the United States in the Pan American Games in Mexico City in 1955 and won a gold medal. Additionally, she won multiple National Championships.
Judy and Mo were members of Meridian Street United Methodist Church. They had been actively involved with the Church's 5th and 6th Grade summer camps at Camp Otto. Judy also co-chaired the Church's Annual Flower Festival. She was an active member of the Indianapolis Children's Museum Guild. She was passionate about the Indiana United Methodist Children's Home and its work with kids, and she served as a member of its Board of trustees for many years.