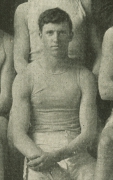 Awards
Olympians (1904)

Men's Track and Field
United States of America
St. Louis, Missouri
110M Run
Silver Medalist
About Thad Shideler
Thaddeus "Thad" Shideler's one year at Indiana gave him a role in not just IU record books but also in national and international track and field histories. Shideler won a silver medal in the 110-meter hurdles at the 1904 Olympic Games in St. Louis, and weeks before that, may have beaten a world record.
He won that Olympic medal competing in an IU, not a United States, uniform. The St. Louis Olympics were opened to almost all American athletes who could get there. As a result, of the eight finalists in the high hurdles, seven were Americans. Fred Schule, who had won the 1901 Big Ten long jump for Wisconsin, took the hurdles gold in 16.0 seconds, with Shideler second in 16.3. Shideler said later that he enjoyed the Fair atmosphere too late into the night before the finals, possibly costing him a gold medal.
Shideler graduated from Indianapolis Manual High School and did some hurdling for the Chicago Athletic Association.