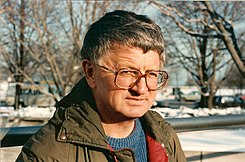 Awards
Oscars (1979)

Best Original Screenplay
Performance: Breaking Away
About Steve Tesich
Steve Tesich came to IU Bloomington on a wresting scholarship. He received a bachelor's degree in Russian from IU in 1965. He then went to Columbia University for his graduate work, obtaining a master's degree in Russian literature in 1967. He was a welfare caseworker in Brooklyn, New York, after graduation for a short time before turning to writing full time.
Tesich was a member of the Phi Kappa Psi fraternity at IU and the anchor on their cycling team that won the 1962 Little 500. He credits his Phi Kappa Psi teammate, David Blase, as the inspiration for the screenplay for Breaking Away. He has received many honors and awards for his original screenplay for Breaking Away: an Oscar, a National Society of Film Critics Award, a New York Film Critics Circle Award, a Writers Guild of America Award, and Screenwriter of the Year, ALFS Award from the London Critics Circle Film Awards. The Ministry of Religion and Diaspora in Serbia even established, the Steven Tesich Award, an annual award in his honor to be awarded to a writer of Serbian origin that writes in other languages.
Tesich wrote screenplays for films: Eyewitness (1981), Four Friends (1981), The World According to Garp (1982), American Flyers (1985), and Eleni (1985); and also series for television: Apple Pie (1978) and Breaking Away (1980-1981); plays: On the Open Road (1992) and Arts & Leisure (1996); and novels: Summer Crossing (1982) and Karoo (released posthumously 1998).
Tesich passed away on July 1, 1996, at the age of 53.