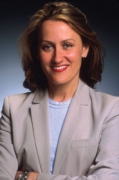 Awards
Kelley School of Business Academy of Alumni Fellows (2006)
About Lee Ann Daly
Lee Ann Daly has served as Executive Vice President, Marketing, ESPN, Inc. since April 2004. She is responsible for the development, direction and implementation of all branding, creative services and marketing for ESPN's growing media businesses, encompassing television, print, radio, the Internet and all outdoor advertising. She is also responsible for the company's synergy efforts, recently expanded to include project management for ESPN-branded business activities supported by The Walt Disney Company, including the ESPN Zones.
Daly had served most recently as ESPN's Senior Vice President, Marketing, since May 1999. She joined the company in 1997 as Vice President, Advertising and Program Marketing. During that time, Daly and her team have been responsible for the development or enhancement of over 50 campaigns annually, including "This is SportsCenter" and most recently, "Without Sports," which celebrates the role of sports in society. In 2004, she also oversaw the development of ESPN's ongoing "Season of the Fan" campaign as part of ESPN's 25th Anniversary effort. Daly also played an important role in the successful development of ESPN Original Entertainment.
Prior to ESPN, Daly was senior vice president and General Manager of Global New Communications, a division of Ammirati Puris Lintas (1996-97) where she was responsible for developing creative and management resources for this brand new division. In this role, Daly and her team created environmental communications for brands using techniques outside traditional advertising media. Her association with Ammirati Puris Lintas began in 1987 as an account executive, and later as a senior vice president until 1992. Her projects included advertising and communications work for United Parcel Service, Four Seasons Hotel and Resorts, Compaq, Nikon and Aetna Life and Casualty.
She also founded the comedy-based radio agency "Are These My Shoes?" In her role as GM and Executive Producer, Daly created radio advertising campaigns for agencies and clients, including ESPN.
She began her career in 1984 in account management at Grey Advertising.
Honors:
Daly and her team have been honored many times during her tenure. She was inducted into the American Advertising Federation's (AAF) Hall of Achievement in 2000. Women in Sports and Events named her WISE Woman of the Year in 2001 and in 2003 she received the PROMAX & BDA Honoree Award for Brand Building. Daly has also been named to Brandweek's "Marketers of the Next Generation," Ad Age's "Women to Watch," Sports Business Journal's "40 under 40," Sports Business Journal's "Female Sports Executives of the Year" and in 2004 she was one of Sports Business Journal's "20 Most Influential Advertisers" And in 2005 she was named one of Sports Business Journal's "20 Most Influential Women in Sports Business." In its review of 2004, The Sporting News named her one of the Power 100 in sports. Also in 2004, she was named one of Multichannel News' "Wonder Women."
Under Daly's watch, the Promotional Marketing Association named ESPN 2000 "Promotional Marketer of the Year." Daly's work has earned recognition from the Art Director's Club of New York and has received numerous awards including the Cannes Lion, Effie, British D&AD, One Show, Radio Mercury and Clio Awards. Presently, she serves as President of the board of directors of the New York chapter of the American Marketing Association and is a member of Mayor Bloomberg's New York City Sports Commission.
Daly believes advertising and marketing's first priority is to entertain, enlighten and delight people. She also believes that the only brand extensions that work are one's which recognize a consumer need and provide a relevant connection to meet that need. She believes ESPN's greatest asset is the community and the relationship it cultivates amongst sports fans everywhere.
She is a native of Indianapolis, and earned a B.A. degree in Journalism/Business from Indiana University's School of Journalism. She is also a graduate of The French Culinary Institute.