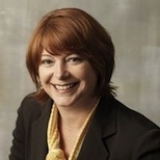 Awards
Kelley School of Business Academy of Alumni Fellows (2005)
About Kathy Vrabeck
Kathy Vrabeck has served as President of Activision Publishing since October 2003. In this role, she oversees the company's product development activities worldwide, directs research, development and product acquisitions, and leads the company's global brand management operation. Shortly after her appointment as president, The Hollywood Reporter named Ms. Vrabeck as one of the 100 most powerful women in the entertainment industry in its December 2003 Women In Entertainment special issue.
Prior to being named President, Ms. Vrabeck held the position of Executive Vice President of Global Publishing and Brand Management for three years, where she oversaw Activision's worldwide publishing operations.
Ms. Vrabeck joined Activision in 1999 as Executive Vice President of Global Brand Management. In this role, she was responsible for the development of multi-tiered, cross-platform strategies for the company's brands, providing global marketing input for development projects and the implementation of all marketing activities in North America.
Before joining Activision, Ms. Vrabeck was senior vice president/general manager of ConAgra's Snack Food Division where she led a cross-functional business team responsible for $800 million in revenue. She also served in various marketing and sales roles for the Pillsbury Company, Quaker Oats Company and Eli Lilly & Company.
Ms. Vrabeck received a Bachelor of Arts from DePauw University and an MBA from Indiana University.
BusinessWeek named Ms. Vrabeck to its 2005 list of 25 "up-and-comers" in the media industry.
She is currently a partner in Media, Entertainment, and Digital at Heidrick & Struggles.