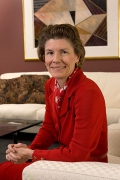 Awards
Kelley School of Business Academy of Alumni Fellows (2001)
About Elizabeth S. Acton
Elizabeth Acton was appointed vice president and treasurer of Ford Motor Company in October 2000. Prior to this, she served as executive vice president and chief financial officer of Ford Motor Credit Company, a wholly owned subsidiary of Ford Motor Company. In 1999, Ford created record shareholder value added of $2.6 billion and achieved record U.S. sales of 3.4 million vehicles.
Acton joined Ford Credit in January 1998. Prior to this, she was assistant treasurer of Ford Motor Company. Acton held a variety of positions during the 17 years she was with Ford Motor Company, including positions with the treasurer's office that involved international financing, portfolio and foreign exchange management, cash flow forecasting, corporate finance, and pension asset management.
Prior to joining Ford, Acton was vice president and relationship manager in the multinational banking group at Continental Bank in Chicago. Also, she currently serves on the Board of Directors for Beazer Homes USA, Inc.
She holds a bachelor's degree in psychology from the University of Minnesota and an MBA in finance from Indiana University.