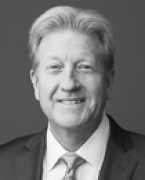 Awards
Bicentennial Medal (2019)
Presidents Circle Laurel Pin (2018)

Benefactor
Stahr Senior Award (1975)
About Stephen Ray Patton
A native Hoosier, Steve attended Indiana University on an academic scholarship, where he received his B.A. in Political Science in 1975. For his academic success and active leadership, he received the Stahr Senior Award in 1975. He received his J.D. from Georgetown University in 1978, graduating summa cum laude and was an editor of the Georgetown Law Review.
Patton joined Kirkland & Ellis as a senior litigation partner, were he tried cases and argued appeals throughout the country. He has served as chair of the firm's Litigation Management and Client Development committees. Patton is Of Counsel at Kirkland where he focuses on pro bono "impact" litigation. From 2011-2017, Patton was Chicago's Corporation Counsel and Mayor Emanuel's senior legal advisor. His work in that role included working implementing initiatives to improve legal representation and reduce costs of the City's almost 300-lawyer Law Department. Patton has been voted "Top 100 Super Lawyers" of Illinois and has been listed on The Best Lawyers of America and named on the country's top litigators by Chambers USA, Global Counsel's Dispute Resolution Handbook, and Corporate Board Member magazine. He also is a lecturer in law at The University of Chicago.
Steve serves on the Dean's Advisory Board of the College of Arts & Sciences. Alongside his wife, Linda, they have established and continue to fund the Stephen R. Patton Scholarship fund in the political science department. The Pattons have made a generous provision in their estate to endow another scholarship fund for students with academic and financial need who will matriculate in an academic discipline in the College of Arts & Sciences. Stephen Patton was inducted into the Presidents Circle at the Benefactor level in 2018. In 2019, Patton received Indiana University's Bicentennial Medal in recognition of his distinguished contributions to the university.