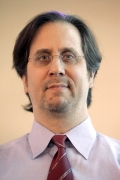 Awards
Frederic Bachman Lieber Memorial Award (2005)
About Howard S. Rosenbaum
Howard S. Rosenbaum received his B.A. from Hamilton College in 1975. He then earned his M.A., M.L.S., and Ph.D. from Syracuse University, respectively, in 1976, 1986 and 1996.
Rosenbaum is the Associate Dean and an Associate Professor of Information Science in the School of Library and Information Science at Indiana University in Bloomington, where he has been on the faculty since 1993. He is the Director of the Master of Information Science program and a Co-Director of the Graduate Certificate in Information Architecture program in the School of Library and Information Science.
Rosenbaum's research focuses on social informatics, e-business, information architecture and community networking, and he's taught courses on digital entrepreneurship, information systems design, and intellectual freedom. In 2005, he published the book Information Technologies in Human Contexts: Learning from Organizational and Social Informatics with Steve Sawyer and the late Rob Kling.
Rosenbaum serves on several editorial boards and conference program committees and has presented his work at the American Society for Information Science and Technology, the Association for Information Systems, the Association of Internet Researchers, HCI International, and elsewhere.
He has been recognized often for excellence in teaching and for the innovative use of technology in education receiving the Frederic Bachman Lieber Memorial Award for Teaching Excellence in 2005, a state-wide MIRA Award for Technological Innovation in Education from Techpoint in 2003, the Indiana Partnership for Statewide Education Award for Innovation in Teaching with Technology in 2002, and was one of the first SBC Fellows at IU in 2000. He is the recipient of the 2009 Scholarship of Teaching and Learning Leadership Award. Rosenbaum is also a fellow at the Rob Kling Center for Social Informatics at IU.