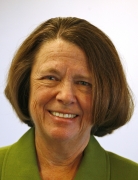 Awards
Frederic Bachman Lieber Memorial Award (2008)
About Christine H. Leland
Christine H. Leland received her B.A. from Smith College in 1970. She then earned her Ed.M. from Northeastern University in 1981, and her Ed.D. from Boston University in 1986.
Leland was appointed to the Indiana University faculty in 1991. She is a Professor of Language Education at Indiana University-Purdue University in Indianapolis.
She played a central role in the design and implementation of the Learning to Teach/Teaching to Learn (LT/TL) program at IUPUI, which provides a cohesive, long-term plan of study for education students. One of her most notable accomplishments is her instrumental role in establishing the Center for Inquiry (CFI), a public magnet school in central Indianapolis.
Leland is a three-time recipient of the Indiana University Teaching Excellence Recognition Award (TERA), and in 2005 she earned the Faculty Colloquium for Excellence in Teaching (FACET) Award.