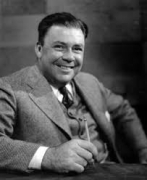 Awards
Honorary Degree (1974)

L.H.D.
Doctor of Humane Letters
Commencement
Bloomington, Indiana
Presenter: John William Ryan
About Nathaniel Alexander Owings
In his own words, "There is a miracle in discovering what you want to do and never questioning it again ... it happens rarely." Born the son of a fine wood importer in Indianapolis, Nathaniel Alexander Owings discovered his life's work shortly after his 17th birthday. He was an Eagle Scout, and won a Rotary Club scholarship to attend the international Scout Jamboree in London, followed by a tour of the Continent. After viewing the wonders of the cathedrals of Notre-Dame, Chartres, Reims, and Mont-Saint-Michel, he knew immediately that he wanted to be an architect.
Mr. Owings attended the University of Illinois (1921-22) and Cornell College of Architecture, working his way through by waiting on the athletes' training tables. In 1927 he earned degrees in both architecture and engineering. After graduating, Mr. Owings met the architect Raymond Hood, whose RCA building for Rockefeller Center impressed him greatly. Through his association with Mr. Hood, Mr. Owing was made development supervisor at the 1933 World's Fair in Chicago. He traveled to Chicago with Louis Skidmore, a brilliant young designer. The original elaborate plans for the Fair had to be discarded as the Depression deepened. Mr. Owings and Mr. Skidmore had to use the barest minimum of the simplest materials - the pavilions were built out of beaverboard. After the Fair was over, Mr. Owings and Mr. Skidmore took a trip abroad and met later in London's Paddington Station. There, perched on steamer trunks, they decided to become partners. engineer John O. Merrill joined them in 1939, and the firm of Skidmore, Owings and Merrill was born.
The internationally famous firm has designed many U.S. military installations, air bases, and the Air Force Academy. Private commissions have included such buildings as Lever House, Chase Manhattan Bank, and the Union Carbide Building in New York; the John Hancock Building; the Norton Building; and the Crown Zellerbach Headquarters Office Building in San Francisco. Other impressive structures are the Alcoa Building; Hartford Insurance Building (San Francisco); Equitable Life Building (Chicago) ; the Oakland (California) Coliseum; the Qantas Hotel in Sydney, Australia; and, in Mr. Owings' home state, the J. C. Penney Store in Indianapolis.
Mr. Owings served as the Chairman of the Chicago Plan Commission (1948-51) and served on the President's Council on Design of Pennsylvania Avenue from 1962-64. He is registered with the National Council of Architectural Registration Boards and is licensed in 21 states. He is a trustee of the American Academy in Rome; a Fellow of the American Institute of Architects; an Associate of the National Academy of Art; and an Academician of the National Academy of Design. Mr. Owings is the author of "The American Aesthetic," published in 1969.
In 1970, Mr. Owings received an honorary Doctor of Laws degree from Ball State University. Among his favorite recreations are horseback riding, investigating historic sites worldwide, and wilderness hiking.