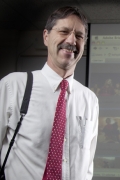 Awards
Fulbright Award (2018)

Eldoret, Kenya
Herman Frederic Lieber Award (2012)
About James D. Kelly
James D. Kelly was born in Uniontown, Pennsylvania on January 10, 1957. He received his B.S.J. in news-editorial journalism from West Virginia University in 1980. He then earned his M.A. in Journalism in 1988, and his Ph.D. in Mass Communication in 1990 from Indiana University.
Kelly is an Associate Professor in the School of Journalism at Indiana University Bloomington. He has been on IU's faculty since August 2007. 17 years prior, he taught at Southern Illinois University in Carbondale.
Kelly teach photojournalism, publication design, and international communication. His research has focused on photojournalism and how image and situational characteristics influence meaning.
Since 1990, Kelly has headed or participated in a series of seven projects aimed at strengthening journalism and journalism education in South Asia and East Africa. Last summer, he did two workshops on HIV/AIDS reporting in Multan and Lahore, Pakistan.
Kelly also took a dozen students to Kenya for three weeks where they joined with 12 Moi University students to report on HIV/AIDS and the work of the IU-Kenya Partnership in Eldoret.