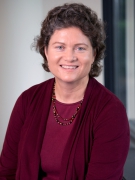 Awards
W. George Pinnell Award for Outstanding Service (2018)
Thomas Ehrlich Civically Engaged Faculty Award (2012)
About Beth Gazley
Beth Gazley received her B.A. in Political Science from Middlebury College in 1983. She then earned her Master of Public Administration in 2001, and her Ph.D. in Public Administration and Policy in 2004, both from the University of Georgia. Gazley also received a Certificat d'Études Politiques from the University of Paris in 1982.
In 1983, Gazley became a fundraising professional and management consultant for public interest, health, and higher education institutions in Washington D.C., Connecticut, & Georgia. In 2004, she joined the faculty of the School of Public and Environmental Affairs at Indiana University. She served as founder and Chair of SPEA's Teaching & Learning Faculty Group from 2011-2016, and became Director of the Masters of Public Affairs program in 2016.
Her research interests have included nonprofit governance and management, disaster response, nonprofit-government relations, service-learning, and volunteerism. She is a long-time consultant and researcher on the governance and philanthropic aspects of professional and trade associations. At present, Gazley is a Co-Principal Investigator on Indiana University's Grand Challenge, "Prepared for Environmental Change", where she is researching civil society organizations as actors in climate change resilience.
Gazley's academic honors have included the William H. Newman Award for best conference paper based on a dissertation from the Academy of Management in 2006, and the Best Journal Article award from the Academy of Management's Public and Nonprofit Management Division in 2007. She was the 2012 recipient of the University of Texas-Austin RGK Center/ARNOVA Presidents' Award, an international research prize. Her service learning research and teaching earned her the 2012 Indiana University Board of Trustees Thomas Ehrlich Award and the 2013 Indiana Campus Compact Brian Douglas Hiltunen Award. Other Honors received at Indiana University include a 2007 Trustee Teaching Award from the School of Public and Environmental Affairs, receipt of an IU Outstanding Junior Faculty Award in 2009, and receipt of Indiana University's Distinguished Service Award in 2017.