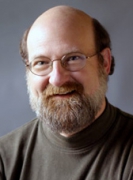 Awards
Bicentennial Medal (2020)
Sylvia E. Bowman Award (2006)
About T. J. Rivard
T.J. Rivard received his B.A. from Bellarmine University in 1983 and earned his M.F.A. from Indiana University in 1989.
Appointed to the faculty at Indiana University East in 1996, he served as chair of the Division of Humanities and Fine Arts, and as inaugural Dean of the School of Humanities and Social Sciences for nine years, until he stepped down in 2009. He has since continued his career as an Associate Professor of English and as Assistant Vice President for Regional Affairs and University Academic Planning.
Rivard was one of the first people on IU East's campus to teach a distance education course, and regularly supplements courses with online components. He has acted as advisor to the IU East Writers' Club, established a national e-zine, and founded an undergraduate student journal to showcase the talents of student writers. Rivard's published works include, among others, "Other Than Love," from Oxford Magazine, "The Raven and the Swan," found in Flashquake, "The Girl and the Snake," from Smokelong Quarterly, "The Monkey Rattle," in Eureka Literary Magazine, and "Morning," found in Kentucky Poetry Review.
Rivard has served on no fewer than 19 campus committees, in addition to participating in multiple campus events at IU East. He has acted in and directed plays for the Richmond Civic Theatre and served on its board, including as president. He has worked on projects and performances with the Morrison-Reeves Library and the Richmond Symphony Orchestra. He has served as an assessment mentor for the Higher Learning Commission, and co-chaired the self-study effort for IU East's re-accreditation visit in the fall of 2011.
Rivard received a F.A.C.E.T. (The Faculty Colloquium on Excellence in Teaching) Award, and a President's Council on the Arts and Sciences Award in 1994. He won the TERA award for excellence in teaching in 1997, 1998, and in 2000. In 1998, his publication "The Raven and the Swan," from Flashquake was nominated for a Pushcart Prize. Riven was also the recipient of the Helen Lees Award for Excellence in Teaching from Indiana University East in 2000.