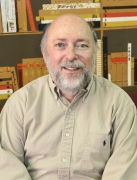 Awards
Sylvia E. Bowman Award (2007)
About Marty E. Zusman
Marty E. Zusman received his B.A. in 1967, his M.A. in 1970, and his Ph.D. in 1973, all from Indiana University.
Zusman was appointed to the IU faculty in 1971 and taught at Indiana University's Fort Wayne regional campus until 1976. He later joined the IU Northwest faculty as Professor of Sociology where he has remained for more than 30 years, including serving as chair of the Department of Sociology and Anthropology for 15 years.
As Professor on IU Northwest's campus, Zusman has been instrumental in developing a system for students to evaluate faculty in arts and sciences classes, has worked to create an internship program for sociology students, and even started a sociology club. From his mentorship, many IU Northwest students, in pursuit of graduate work and advanced research, have been published in the College Student Journal and have presented their papers at professional meetings.
Professor Zusman is a co-author of a sociology book in the form of a novel, THE DANCER'S GIFT: SOCIOLOGY IN LIFE (2nd edition, 2011), which has since been used at several Universities and High Schools in America and abroad.
Zusman has chaired nine university committees, including the Graduate Program Committee and the Alcohol Task Force Research Advisory Committee. He has also been a member of more than a dozen other committees.
Professor Zusman has received the Teaching Excellence Recognition Award in 1996, 1997, 1998, and in 2000. In 2004 and 2006, he was the recipient of the Center for Excellence in Teaching and Learning and Trustee Teaching Award, and of the Indiana University Northwest Founders Day Teaching Award for the 2005-2006 school year.
He is now Professor Emeritus of Sociology and Anthropology.