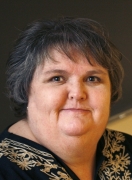 Awards
Sylvia E. Bowman Award (2008)
About Stephanie L. Shanks-Meile
Stephanie L. Shanks-Meile received her B.A. in 1979, and her M.A. in 1981 from the University of Texas at El Paso. She then earned her Ph.D. from the University of Nebraska at Lincoln in 1986.
Shanks-Meile was appointed to the Indiana University Northwest faculty in 1987. She is Professor of Sociology in the Department of Sociology and Anthropology and an Adjunct Professor of Women's and Gender Studies. Her research has focused on the White Separatist Movement, including Ku Klux Klan, neo-Nazi, and Skinhead organizations. She has also published in the areas of theory and medical sociology.
Shanks-Meile has served on a number of university committees and advised IU Northwest student organizations such as the Sociology Club, the Women's Studies Student Organization, and Students with a Challenge. She served on the Americans with Disabilities Act Committee, where she advocated structural modifications to the campus so that students with physical disabilities could more easily get to their classes and activities. She also worked with the vice chancellor for academic affairs to change requirements for students with dyslexia who were unable to complete the modern language requirement in the College of Arts and Sciences.
Her award collection includes four Teaching Excellence Recognition Awards, a Founders Day Teaching Award, and a Faculty Colloquium on Excellence in Teaching Award, as well as several national and regional awards for research publications.