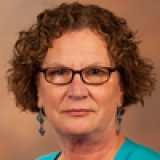 Awards
W. George Pinnell Award for Outstanding Service (2006)
About Linda R. Delunas
Linda R. Delunas received a diploma in Nursing from Parkview-Methodist School of Nursing in Fort Wayne Indiana in 1976, and then her B.S.N. from the Family Nurse Practitioner Program at Purdue University Calumet in Hammond, Indiana in 1984. She then earned her M.S. in Adult Health Nursing with a Clinical Nurse Specialization from Purdue University Calumet in 1987, and her Ph.D. in Nursing Sciences from the University of Illinois at Chicago in 1997.
Delunas' teaching career began with an Adjunct Lecturer position in the Division of Nursing at Indiana University – Northwest, which she held from 1984 to 1989, only to be promoted to Lecturer in 1989. She became an Assistant Professor in 2003, and then Associate Professor in 2006, and a full Professor in the School of Nursing in 2010. From 2003 to 2006, Delunas was the Associate Dean for the School of Nursing and Health Professions. From 1999 to 2001, she was the Coordinator of Clinical and Community Affiliations, and the Curriculum Coordinator for the School of Nursing from 2001 to 2003. She was appointed the Faculty Assistant to the Chancellor as Interim Organizing Coordinator in the College of Health and Human Services from 2006 to 2008. At the Indiana University School of Medicine – Northwest, she served as an Adjunct Associate Professor of Medicine from 2008 to 2010, to become an Adjunct Professor of Medicine in 2010. Delunas was appointed as the Associate Dean of the College of Health and Human Services in 2008, and Director of the School of Nursing in 2012.
Delunas has served as a member of the American Nurses Association, the Indiana State Nurses Association (ISNA), the National League for Nursing, the Indiana League for Nursing, and Sigma Theta Tau Alpha-at-large Chapter.
Delunas has been the recipient of two Teaching Excellence Recognition Awards from Indiana University – Northwest for 1998 and 1999. She has been awarded as Outstanding Instructor by the ASN graduating class of 1998, 1999, 2000, the BSN graduating class of 2001, and an Outstanding Educator Award by the RN-BSN graduating class of 2005. In 2003, the Alpha Chapter of Sigma Theta Tau awarded her the Excellence in Education Award. In 2001, she received the Trustees Teaching Award, was a finalist for IU Northwest's Founder's Day Teaching Award, and won the FACET Award. Delunas also had the Best Conference Paper Presentation at the National Business and Economics Society Fifth Annual Conference in Hawaii in March of 2004. In 2006, Indiana University awarded her with the W. George Pinnell Award for Outstanding Service and Northwest's Vice Chancellor's Academic Affairs Outstanding Service Activity Award. In 2008, she received the Elizabeth M. Lion Award for Distinguished University Service from Indiana University's School of Nursing. Delunas is also a member of the Sigma Theta Tau International Honor Society for Nursing, and included in Who's Who in American Nursing.