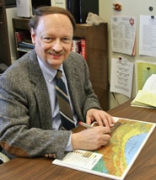 Awards
W. George Pinnell Award for Outstanding Service (2007)
About Kenneth J. Schoon
Kenneth J. Schoon received his A.B. in 1968 and his M.S. in 1972 from Indiana University. He then earned his Ph.D. from Loyola University of Chicago in 1989.
Schoon was appointed to the Indiana University faculty in 1990. He is a Professor of Education, and an Associate Dean of the School of the Education at the Northwest regional campus in Gary.
Schoon's contributions to the Northwest campus are remarkable. He helped rewrite the campus constitution several years ago as chair of the Constitution Revision Committee, and he serves on the Curatoriate of the Center for Regional Excellence: Cultural Discovery and Learning. On the university level, he has been elected as liaison to the Faculty Colloquium on Excellence in Teaching and has served as a member of the University Calendar Committee.
Long admired for his integrity, Schoon has a reputation as a campus leader. For over a decade, he was the IU Northwest Faculty Organization Parliamentarian, serving as the "voice of reason" for that body by promoting faculty governance and reminding faculty of their rights, obligations, and responsibilities. He chaired the campus task force that created a list of "Student-Centered Principles" that still guides campus policies.
As associate dean of the School of Education since 1999, he has served on numerous search committees for faculty and administrative posts, as well as many faculty governance and academic committees. He also finds time to mentor new and adjunct faculty, and is academic advisor to all of the department's science education majors plus several master's degree candidates. He oversees the Office of Education and Student Services, and serves with public school teachers and administrators on the Teacher Advisory Council.
His contributions to science education and to local schools are far-reaching as well. He has made countless visits to area schools to talk with students about geology and earth sciences. He also conducts in-service workshops, acts as consultant, has served on accreditation teams, and conducts program evaluations.
For more than a decade, he has been State Membership Chairman for the Indiana Science Olympiad, and he has served on the IU Northwest Science Olympiad planning committee since its inception.
For the past eight years, Professor Schoon has been on the board of the Indiana Dunes Environmental Learning Center and currently serves as its president. Senator Richard Lugar has called the center the best example of a public/private partnership that he knows.
Over the years, Schoon has served on the town of Munster's ordinance committee, Heritage Commission, and Plan Commission. As a long-time board member of the Munster Historical Society, he wrote a number of popular historical pamphlets about the region. These writings were the seed of what later became his 2003 book, Calumet Beginnings: Ancient Shorelines and Settlements at the South End of Lake Michigan, which won the IU Northwest Research Award in 2003. He is also a member of the Munster Board of Parks and Recreation, and served three terms as president. He has given time and talent to the Northwest Indiana Historical Community, Habitat for Humanity, and a host of other organizations.
Currently, he is president of the Munster Centennial Committee, which is planning activities, performances, and ceremonies to attract and touch all of the town's residents and neighbors. With the publication of his second book, Munster, Indiana: A Centennial History, just in time for the celebration, he's likely to find himself in another flurry of speaking engagements over the next several months. As he speaks to community groups and participates in so many other volunteer activities, Schoon will continue to represent his university and campus as an exemplar of what it means to serve.