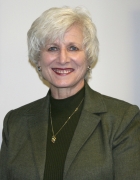 Awards
W. George Pinnell Award for Outstanding Service (2008)
President's Award for Distinguished Teaching (2006)
About Margo Sorgman
Margo Sorgman received her B.S. from the State College of Boston in 1964. She then earned her M.S. in 1969, and her Ed.D. in 1972 from Boston University.
Before coming to Indiana University Kokomo in 1988, Sorgman was an Assistant Professor at the State University of New York in Geneseo, and a teaching fellow at Boston University. She was Vice President for Academic Affairs at Endicott College in Massachusetts, Associate Dean of Education and Professional Studies at Central Connecticut State University, and an Associate Professor and Chair of the Division of Elementary Education and Director of Women's Studies at the University of Utah. She then joined the faculty as a Professor of Social Studies Education in the Division of Education at IU Kokomo.
Sorgman has served in many ways. She is an active member of the Faculty Colloquium on Excellence in Teaching (FACET), serving on its Statewide Selection Committee, Steering Committee, and Retreat Planning Committee. She is also a reviewer for the Journal of the Scholarship of Teaching and Learning. Since 2006 Sorgman has donated her time to the Agape Therapeutic Riding Center in Cicero, where she works with special needs children from Indianapolis Public Schools. She also dedicates a week of her summer vacation to volunteering with autistic children.
One of Sorgman's most notable achievements is the founding of IU Kokomo's Center for Economic Education. She partnered with Kathy Parkison, a professor of economics, for 11 years to design, direct, and fully implement the center. Sorgman and Parkison developed four courses in economics education and several annual workshops for teachers on critical thinking, problem-based learning, the integration of economics into writing, reading, mathematics, and the development of standards-based economics lessons. The center, which has trained more than 500 teachers, received a five-year accreditation by the National Council for Economic Education, and has attracted other grants that have provided almost $120,000 to enable teachers to take courses and attend workshops.
Sorgman has implemented several of her ideas to improve the campus. She was one of two founders of the Women's Studies Program at IU Kokomo. A member of the Mack Center for Inquiry on Teaching and Learning, Sorgman was one of the charter fellows who helped design the center. She also chaired the 2008 Fellows Selection Committee. Sorgman initiated the Division of Education's first Friends and Alumni Network, and the group will soon be selecting its first Distinguished Alumni Award and Distinguished Service Award.
Sorgman is widely published in journals, including The Teacher Educator, Journal of Economics and Economic Education Research, and Teaching Excellence, among others.
Throughout her career, she has been honored with awards including seven IU Trustees Teaching Awards from 2001, 2003, 2004, 2005, 2006, 2007, two TERA Awards for Teaching Excellence from 1997 and 1999, the Claude Rich Excellence in Teaching Award from 1996, the IU President's Distinguished Teaching Award in 2006, and IU Kokomo's Virgil T. Hunt Service Award from 2007. Sorgman, with Kathy Parkinson, for their work in economics education, received the Indiana Council for the Social Studies Distinguished Teacher Award and were selected by the National Council for Economic Education to participate in their Train the Teachers Program in Prague. She has also won a FACET award and IU's George W. Pinnell Award for Outstanding Service in 2008.