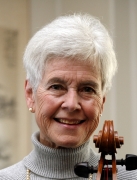 Awards
President's Award for Distinguished Teaching (2008)
About Helga Winold
Helga Winold's principal teachers in Europe were André Navarra and Adolf Steiner and she performed frequently on German radio and in concerts. She began her teaching career in Europe, but in 1963 she immigrated to the United States to study with Janos Starker at the Indiana University's School of Music. In 1967, she received the first Doctor of Music degree in cello granted by IU. She began teaching at the school in 1969.
For nearly 40 years, Winold devoted herself to training exceptional performers and music teachers, generously drawing on her masterful musical knowledge, research, and experience as a performer. Winold created two courses in cello literature that examine the cello's development, literature, and performance practice from its beginnings into the twenty-first century. Her cello literature and pedagogy courses draw students throughout the Jacobs School of Music -- including violinists, violists, bass players, and the occasional brass player -- who seek Winold's wisdom to broaden their understanding and discover new approaches. And of course, she instructs students privately in cello performance.
Outside the studio, Winold is a willing resource for IU music students. She serves on more than 20 doctoral committees and for the past decade has advised incoming graduate students in all of the string instruments.
Winold is a highly respected researcher and performer who has played solo and chamber music recitals throughout the United States, Asia, and Europe. Her research specializes in the analysis of movement in string playing and the translation of thought into movement. She and IU psychology professor Esther Thelen used computers to track and analyze students' movements as they played the cello, leading to improved instruction, articles in scientific journals such as The Journal of Ecological Psychology, and an interdisciplinary course on the interaction of brain and body. Winold is a consultant to the Institute of Music and Medicine at the Freiburg University of Music in Germany.
In 2008, Winold was honored at Indiana University with the President's Award for distinguished teaching. She is presently retired from the school, but maintains a busy schedule of solo
recitals, chamber music recitals, private teaching, master classes, and lectures.