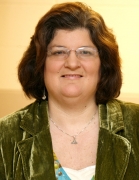 Awards
Bicentennial Medal (2020)
President's Award for Distinguished Teaching (2008)
About Cynthia O'Dell
Cynthia O'Dell received her B.S. from the University of South Carolina in 1985. She then earned her M.A. in 1990, and her Ph.D. in 1993 from Emory University.
O'Dell was appointed to the Indiana University faculty in 1994. She is an Associate Professor of Psychology at the Northwest regional campus in Gary. She teaches a broad range of courses from introductory psychology to senior laboratory courses.
O'Dell has also undertaken, with colleague Mark Hoyert, an intervention study designed to increase learning goal orientation and emphasize the incremental nature of intelligence for at-risk students in freshman-level courses. O'Dell and Hoyert initiated the research to better understand their students who struggle with college courses and ultimately to help them improve their grades and stay in school.
Since 2003, she has served as director of women's studies at IU Northwest. O'Dell also organizes the annual "Celebrating our Students (WOST) undergraduate research conference and mentors students from the local conference to attend the annual all IU Gender Studies Conference. Her contributions to the Department of Psychology include helping the department develop assessment procedures, adopting introductory textbooks, and planning advising programs.
O'Dell has been recognized for her contributions with three Teaching Excellence Recognition Awards, three Trustees Teaching Awards, and the IU Northwest Founders Day Teaching Award, and she is a member of Faculty Colloquium for Excellence in Teaching. In 2020, O'Dell was presented the IU Bicentennial Medal for distinguished service at the university.