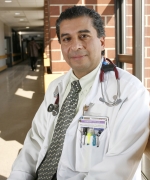 Awards
President's Award for Distinguished Teaching (2007)
About Ahdy W. Helmy
Ahdy W. Helmy received his M.B.B.Ch. in 1981 and his Ph.D. in 1992 from Alexandria University in Egypt.
Helmy was appointed to the Indiana University faculty in 1995. He is an Associate Professor of Clinical Medicine in the Indiana University-Purdue University in Indianapolis' School of Medicine. Helmy, whose specialty is internal medicine, serves as teacher, advisor, mentor, and role model to learners at all levels of medical education, including medical students, residents, and fellows. While he is renowned for his extensive medical knowledge and superior clinical skills, he is most highly regarded for his professionalism and rapport with patients.
Helmy has been widely recognized for his exceptional teaching. He has been honored with the Department of Medicine Distinguished Teaching Award (1997), the Trustees Teaching Award (1998, 2000, and 2005), the General Internal Medicine/Geriatrics Division Outstanding Teacher Award (2001), the Outstanding Professor in Clinical Sciences Award (2003 and 2004), and the School of Medicine Teaching Award (2005). He is also a three-time recipient of the Outstanding Educator Award (1999, 2003, and 2006), which is given by the departing class of IU School of Medicine senior residents to the faculty member who has contributed most significantly to their education during their residency.
Helmy's contributions to medical education go beyond his teaching. In 2001, he co-founded the Primary-care Interdisciplinary Medical Education (PRIME) Clinic at the Richard L. Roudebush Veterans Administration Medical Center in Indianapolis. The monthly clinic, which sees patients with complex medical, social, and pharmacy needs, provides a cooperative interdisciplinary clinical environment for internal medicine residents, social work students, and pharmacy students. Helmy has organized the clinic and supervised internal medicine residents there since its inception.