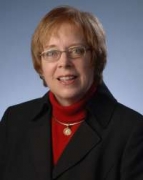 Awards
President's Award for Distinguished Teaching (2006)
About Mary L. Fisher
Mary L. Fisher received her DIPL from Aultman Hospital School of Nursing. She then earned her B.S., M.S. and Ph.D. in Nursing from Kent State University.
Fisher is a Professor in Nursing Administration at the Indiana University School of Nursing in Indianapolis, Indiana. In August 2008, she assumed the position of Associate Vice Chancellor for Academic Affairs at IUPUI. She held chief nurse positions at several hospitals before returning to academia where she has taught in the Executive Weekend MSN program in Nursing Administration. She consults on Magnet Hospital preparation, evidence-based practice, problem-based learning, strategic planning, and administrative leadership and has been a legal nurse expert for over 25 years.
Fisher's research has been in the area of staff nurse voicing and intent to stay in their current position and costing models. Her current research interests center on problem-based learning and student engagement in the learning process.
Fisher was awarded the President's Distinguished Teaching Award from Indiana University for 2006, the P.A. Mack Award for Distinguished Service to Teaching in 2008, and has been a member of FACET (Faculty Colloquium for Excellence in Teaching-Indiana University's teaching academy) since 1997. Fisher has served as IUPUI FACET liaison from 2006 to 2008.