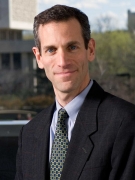 Awards
President's Award for Distinguished Teaching (2005)
About Matthew R. Auer
Matthew R. Auer received his A.B. magna cum laude from Harvard University in 1988, and an M.A. in Law and Diplomacy at the Fletcher School of Law and Diplomacy in 1990. He then earned his M.S. in 1994, and his Ph.D. in 1996 from Yale University.
Auer is a Professor in the School of Public and Environmental Affairs and the Dean of the Hutton Honors College at Indiana University. His professional interests involve intersection of foreign aid and sustainable development, international forest policies, energy efficiency, public administration, environmental education, and undergraduate honors education.
Auer has received the Myres McDougal Prize for Society for the Policy Sciences in 2001, and the Harold D. Lasswell Prize for Springer and Policy Sciences in 2010. He was also a Fellow of the Academic Leadership Program in the Committee on Institutional Cooperation from 2007-2008, and appointed IU LeaD in 2006. From Indiana University, Auer has been the recipient of the President's Award for Excellence in Teaching in 2005, Trustee Teaching Award in 2001, 2002 & 2005, Outstanding Instructor for an undergraduate program in the School of Public and Environmental Affairs in 1998, 2001 & 2004. Also from IU he has been the recipient of the Faculty Colloquium on Excellence in Teaching Award in 2002, the Outstanding Junior Faculty Award in 2000, and the Teaching Excellence Recognition Award for exemplary contributions to the teaching mission of SPEA and Indiana University in 1997, 1998 & 1999.