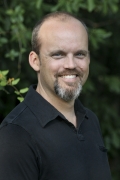 Awards
Lieber Memorial Associate Instructor Award (2012)
About Christopher Todd Beer
Christopher Todd Beer received his B.F.A. Summa Cum Laude from the Savannah College of Art & Design in 1993. He then earned his M.A. Summa Cum Laude in Social Science from Humboldt State University in 2003, and his Ph.D. in Sociology from Indiana University in 2012.
Beer has served in a number of teaching capacities. From 1999 to 2000 he was the Senior Instructor of Adjudicated Youth Alternatives, and from 1999 to 2005 he was the Instructor for Adventure Treks. Beer was also the instructor for Global Routes in Kenya in 2007, in Tanzania in 2008, and in Nepal in 2009. At Indiana University, he was a Graduate Teaching Assistant from 2004 to 2006, Teaching Assistant in the Sociology department during 2008, and an instructor from 2007 to 2011.
Beer's current sociological interests in globalization, social movements and political sociology emerged from his diverse life experiences including working as a photojournalist and doing a story on the war in Bosnia in the early 1990s, volunteering from 1997 to 1998 in rural Mozambique for a community health and education program, guiding wilderness adventure trips for teens in the Western U.S. for seven years, doing field research in Western Kenya, and guiding service-learning and cultural education trips for teens in Kenya, Tanzania, and Nepal. His current research explores how individuals and organizations in Kenya participate in and are influenced by world society.
Beer has received the Graduate Tuition and Fee Scholarship from the Department of Sociology at Indiana University from 2004 to 2010, and a Graduate Summer Fellowship in 2006. Also from Indiana University's Department of Sociology, he received the Preparing Future Faculty Fellowship in 2008, the Stewart Family Scholarship in 2009, and the Advanced Departmental Fellowship in 2010. In 2009, he was the recipient of the Sutherland Teaching Award for excellence and commitment to teaching. In 2011, he received the Sage/Pine Forge Press Teaching Innovations & Professional Development Award and the Social Action Award for research.