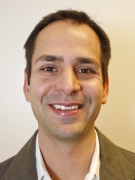 Awards
Lieber Memorial Associate Instructor Award (2008)
About David D. Blouin
David Blouin received his B.A. from Wittenberg University in 1997. He then earned his M.A. in 2003, and his Ph.D. in Sociology in 2008 at Indiana University.
Blouin's teaching career started as a Graduate Assistant in the Department of Sociology at Indiana University for the 2000 to 2001 school year, and then as an Associate Instructor from 2008 to 2010. He served as an Adjunct Instructor in the Department of Sociology at DePauw University in 2004 and at Indiana University Purdue University – Columbus in 2007. At Indiana University – South Bend, he served as an Assistant Professor in the Department of Sociology and Anthropology in 2008. Blouin has merged his passion for teaching through service learning with his sociological research on human-animal relations, and is dedicated to improving his teaching methods by conducting his own research on teaching and learning.
Blouin serves as a member in the American Sociological Association's Teaching and Learning Section, as well as their Animals and Society Section. He is also a member of the Midwestern Sociological Society, the North Central Sociological Association, and the International Society for the Scholarship of Teaching and Learning. In 2007, Blouin coordinated the Preparing Future Faculty Conference for IU's Graduate School. Blouin has also served as a reviewer for the American Journal of Sociology in 2007, and for Sociology of Religion in 2011.
In 2007, Indiana University's Department of Sociology awarded Blouin the Edwin H. Sutherland Award for Excellence and Commitment to Teaching. The American Sociological Society recognized him with a SAGE and Pine Forge Teaching Innovations and Professional Development Award. Blouin, along with Evelyn Perry, won a Best Paper Award from the American Sociological Society for the Study of Problems for their research thesis 'Whom Does Service Learning Really Serve: Community Organizations' Perspectives on Service Learning'.